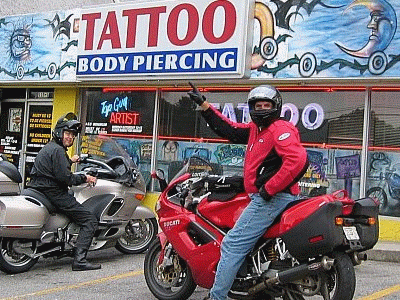 The adventure (as originally planned):
The 2004 trip is officially put together and we are ready to roll out of Athens about 8:00-8:30 on Friday morning July 30.
Florida riders are all welcome at the Bronson home. I promise you will have some place to sleep and shower. If you want to stay at a hotel, I will make arrangements for you but PLEASE save your money and hang with us. (Same offer on your way back to Florida).
For those local guys, we will make a pick-up stop at the Burger King in Commerce about 9:00, leaving around 9:30
Items to bring:
Bathing suit or shorts

Crappy shoes for white water rafting

Towel

Rain gear

Ear plugs (you will be sleeping with other guys)
Cameras/Camcorders
Expected cost:
White Water Rafting will be Sat Wildwater LTD, Ducktown TN -$41.00 (including the F'n Taxes)
Cabins Friday night Telico Plains TN - Approximately $50 per cabin- 3 share expense per cabin
Hotel 6 Sat night, Pigeon Forge TN- $69.00 per room- two per room
Hotel 6 Sun night, Asheville NC- $48.00 per room-two per room
Only other expenses should be Gas/Food/Drink
Trip Agenda:
Friday- Leave Athens, through Hiawassee Gad, to Franklin TN, Deals Gap, Cherohala Skyway, to Tellico Plains
Sat- White Water rafting, Blue Ridge Parkway, cross New Found Gap/Smoky Mountain, Gatlinburg, Pigeon Forge
Sun- Cross Smoky Mounting, Chimney Rock, Grandfather Mountain, Roan Mountain, Little Switzerland, Asheville
Monday-Cashiers, Highlands, Brass town Bald Suches Ga, Unicoi State park, Helen GA
See the 2004 Southern Romp map at the top left column for more details (Compliments of 2nd year rider Ray Shedden).
Itinerary and map may not match exactly and all roads are subject to change by curiosity.
Questions???? Call or email.
Jim Bronson
Office: 770-725-0003 Cell: 706-714-4900