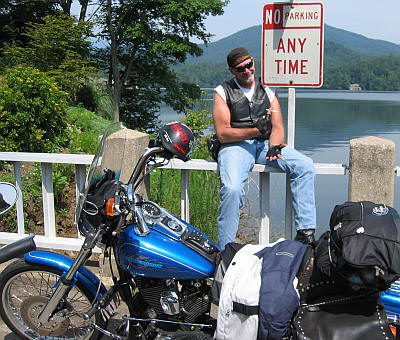 The adventure (as originally planned - then changed at a moment's whim!). Special Thanks for Rick Pulley and Jeff Dean for planning, Rick Pulley and his wife for an overnighter for the FLA gang coming north, and David Anderson for an overnight accommodations for the FLA gang going south. AND Jim Bronson, the father of The Southern Romp!
Southern Romp 2005 Agenda
Friday – July 22
9:45-10:15 am Meet up with everyone in Dahlonega, at the Smith House. From there we will head to Suches and have lunch at T.W.O (Two Wheels Only) http://www.twowheelsonly.com . The rest of the day we are riding towards Tellico Plains, so we can go white water rafting, or paint ball and should have time for a Cherohala and dragon run, or other roads in the area.
Saturday – July 23
9:00 am Spelunking in the mountains at The Lost Sea http://www.thelostsea.com/home.htm as in the Guinness Book of World Records as the world's largest underground lake After going under the mountain we'll ride on top, crossing the Cherohala and the dragon then making our way towards Asheville where drinking and driving may not be legal but it sure was fun.
Sunday – July 24
9:00 am Biltmore Estates http://www.biltmore.com tour or exploring other North Carolina roads north of Asheville and the Blue Ridge Parkway. I have a route mapped out but left plenty of time on all days to add and change up. The parkway is still closed north of Asheville but there are other great roads (http://www.motorcycleroads.us) in and around the area. We'll head back the hotel for another pool party and down a few cases before we hit the go carts (the more you drink the faster they go).
Monday – July 25
9:00 am Leave Asheville and head back to Helen and of course stop at Hanz (I think it is) for lunch, and tour a few more of the locals favorite roads if the butts are up for it before we depart.
This is just a guide and can be changed at any corner of the road.