The Official Web Site for
The Southern Romp
CLICK for Jim and Ray do the "Tour of America 2006":
Jim Carlton - on a 2002 Harley FatBoy
Ray Shedden - on a 2002 Harley VROD
The Trip Completed
[8/12/06 (1am 8/13)-
~6,892 miles]
Click map to enlarge: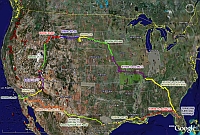 Legend says a Bronsonator lives near Athens, GA near the mountains of western North Carolina - east Tennesee. He tests your skills on US129 with 318 curves in 11 miles, he whitewater rafts with you, cheating death (hopefully), he snores like a bear in the next KOA cabin in Tellico Plains, TN. He makes you eat Santa's BBQ (watch out for antlers!), he digs the gravel out of your road-rash wounds, he nicknames you if you deserve it.

Everyone who comes to ride with the Bronsonator will always remember it (some parts will be blurrier than others).